10 reasons to (finally) become a Big this spring!
March 21, 2017 , Hannah Rosentreter
1. Motivating your Little ends up motivating you.
Positive energy is contagious! Littles are really awesome people to spend time with. Plus, when you're seeing yourself through your Little's eyes, you want to be your best self. Don't be surprised if you strive a little harder to be the person your Little can look up to.
2. SO MANY ACTIVITIES!
Worried about planning activities to fill your time with your Little? We've got you covered! Every week, we have multiple pre-planned, fun events for your and your Little to enjoy. They are easily found on our Bigs webpage. Good luck trying to decide!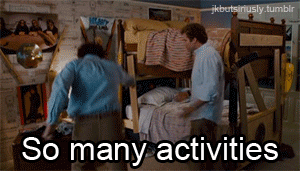 3. Encounter new perspectives.
You and your Little will probably come from different backgrounds. Having a Little can open your eyes to new ways of thinking about the world through a child's eyes. You can also help to broaden your Little's perspective of the world too.
4. Change a child's life for the better.
Your Little will look to you for  guidance, encouragement, and friendship. Think of your own role models from when you were younger and the influence they had on you.  As a Big, this is your chance to provide a positive space for a child, and help them unlock their greatest potential.
5. You can meet new friends!
Big Brothers Big Sisters is its own community of awesome people. We host events that allow you to meet like-minded people and talk about your Big experiences as a mentor. We host Big Happy Hours too… cheers to new friends!
6. You have options.
Our mentoring programs at Big Brothers Big Sisters are not one size fits all. One-to-one mentoring is our most well-known program, but you can also mentor as a couple. Our School-Based mentoring programs allow you to meet at the same time and same place each week, which allows high school and college students to be Bigs as well.
7. Stop groaning about society, step up and do your part to better it!
Big Brothers Big Sisters conducted a study that shows that quality mentoring programs have incredible impacts on youth. Mentored youth do better in school, have healthier relationships with their parents and peers, and are less likely to make risky decisions.
8. Volunteering is admirable.
People will take notice of your role as a mentor! Your family will give you automatic brownie points (be honest, you've always wanted to be the favorite child). Your boss will take notice of your leadership skills, or a new employer will think highly of your volunteer commitment. Giving back to the community will never go out of style.
9. You'll end up with more than just a Little.
We ask every mentor to make a minimum commitment of 1 year, but many of our matches are celebrating 4 and even 10 year anniversaries! These friendships become life-long relationships, and you have a Little Brother or Sister that truly feels like family.
10. Arguably the best thing you could ever do for yourself.
Ask any Big, they will tell you it's the best decision they've ever made. These relationships are rewarding beyond measure. Volunteering at its core is focused on giving back without expecting anything in return. Yet, BIG things are gained when you choose to give a LITTLE.
Sign up for an info session today!